In a joking manner, the magician asks a spectator if he can take a little pain. He asks the spectator to hold out his arm, sleeve rolled up. He shows an apparently sharp knife (or a business card can be used) and takes out a bottle of anaesthetizing fluid and places a drop on the arm.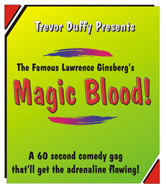 After a little by-play, he places another drop on and then 'apparently' slices the arm – 'blood' and all! Of course there is no pain as the whole thing is a joke, but the comical dialog that gets going is very amusing.
The magician wipes the wound clean and reveals that no harm has been done! This 60 second gag will really get the adrenaline flowing!
View a demonstration at Murphy's Magic supplies. CLICK HERE.