A Blank Version of the Popular Phil Trick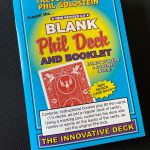 We have had a huge response from magicians who wanted to be able to create their own version of the PHIL trick. Using the new and very clever 'PHIL' principle, this deck can be used as a tool to promote products or company names. It can be customised to fit in with a theme or someone special on the occasion of their birthday, for example.
It is supplied with a 16 page booklet which includes a number of ideas, ways of using it and how to prepare the deck. Highly recommended for Trade show workers and other corporate work.
A REFILL for the Blank Version of the Popular Phil Trick is now available, so you can purchase the deck without the booklet.